FAIRCORE4EOSC at the EOSC Symposium: towards FAIR and beyond
Between 20-22 September 2023, over 400 participants representing decision-makers, researchers, and experts in the EOSC realm met in Madrid for the major annual event, the EOSC Symposium. The event was organised by EOSC Future together with the EOSC Tripartite collaboration. FAIRCORE4EOSC took part in three key sessions, providing an overview of the Project's contribution to strengthening the EOSC ecosystem through the developed services.
How the 9 Core EOSC Components will support FAIR?
FAIRCORE4EOSC is a 3-year research & innovation action focusing on the development of the 9 Core EOSC Components. To extend the EOSC Platform and further support FAIR, the project is answering the specific gaps identified by SRIA. Hence, the nine services are targeted to enhance the interoperability, accessibility, and reuse principles.
As highlighted by Tommi Suominen (CSC), the Project Coordinator of FAIRCORE4EOSC, each component is expected to have a substantial impact on the work of numerous communities and the overall research sector in Europe. To start with, the RDGraph aims to use an AI-based human language search in the graph data. Thus, it will provide the research outputs that correlate to a human query. Next, the PID Graph will enable finding more connections between different research outputs.
A key service that will facilitate interoperability between different data services is the MSCR. The ultimate objective is to create a space where it is possible to deposit metadata schemas and create crosswalks between them. The DTR component, on its side, will function as a depository for data types.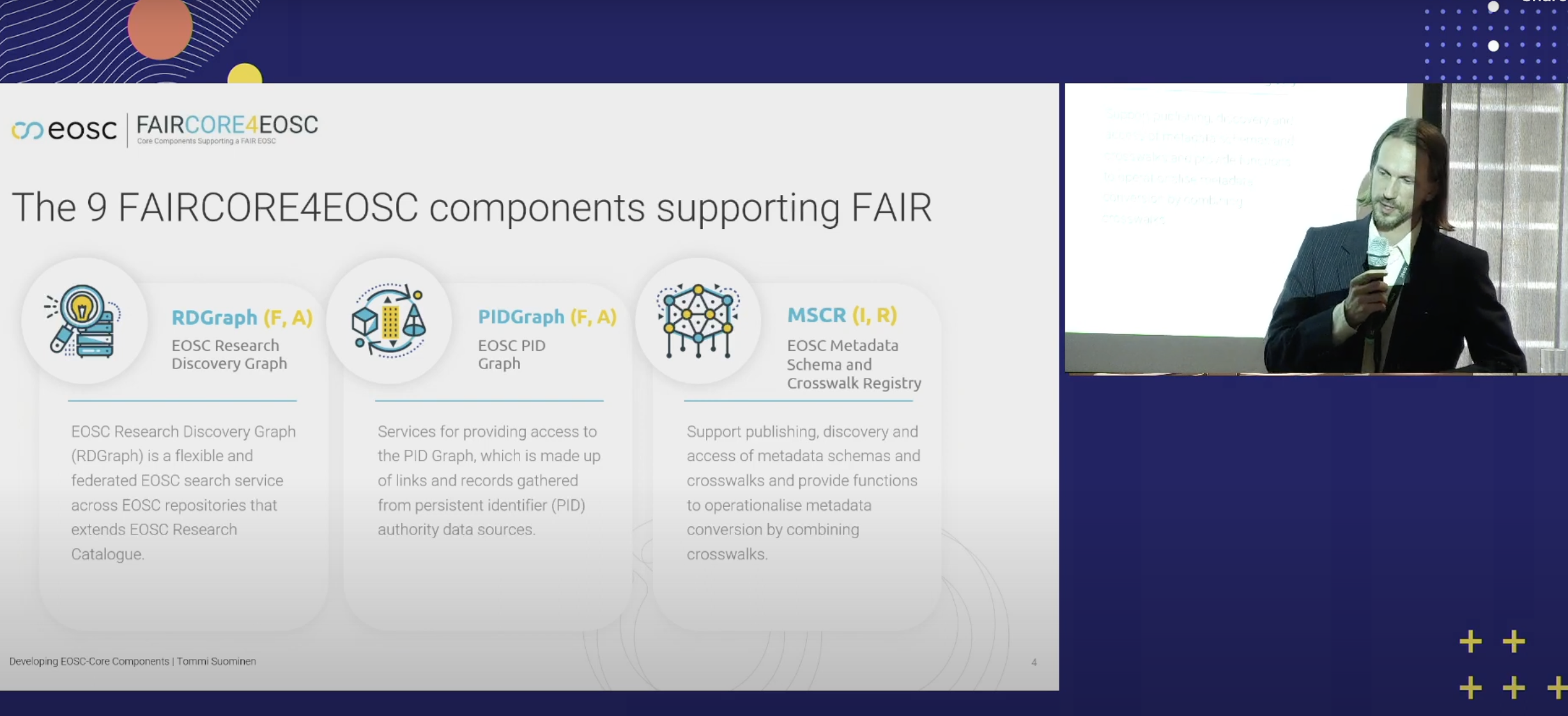 When it comes to CAT, the service will serve to encode, record, and query compliance with the EOSC PID policy. Concurrently, RAiD will mint PIDs for research projects and support the work of the graphs to provide information on how projects are connected.
Another interesting function will be provided by the RSAC component, which will serve as an archive of source code to ensure the long-term preservation of research software in different disciplines alongside publications and other research outputs.
Finally, the SWHM will go beyond FAIR by making the data and source code available, in addition to guaranteeing its accessibility and usability.
As announced at the EOSC Symposium, the beta version of the components will be available in November, while the final release is expected for 2025, when all the components will be integrated into the EOSC Core. In the meantime, five case studies will adopt the components to show the real application value of the developed services.
To conclude, as emphasised by Tommi Suominen, ensuring sustainability and interoperability of the components remains a key aspect. Particular attention is paid to secure sustainability pathways for adoption as the services developed by FAIRCORE4EOSC are expected to become strategic for the EOSC ecosystem and the overall research community in Europe.