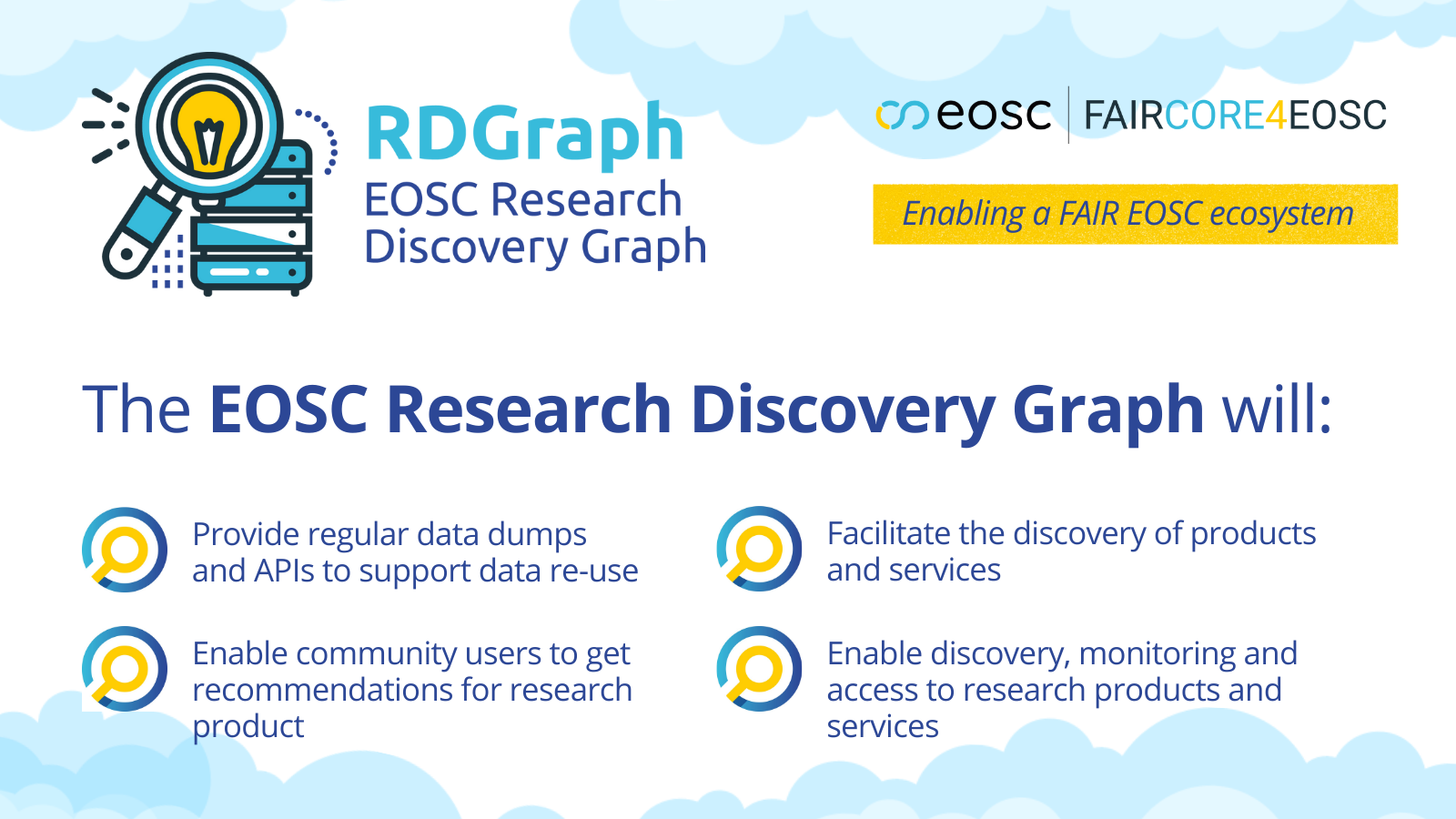 Overview
The EOSC Research Discovery Graph Service (RDGraph) delivers advanced discovery tools across EOSC resources and communities. The RDGraph builds upon the EOSC catalogue's content, extending it with additional entities like the Research Activity Identifiers (RAiDs). It offers a variety of advanced functionalities exploiting several intelligent community-oriented discovery tools developed by the partners of the FAIRCORE4EOSC project.
The respective toolset includes natural language processing and graph-based cutting-edge solutions for EOSC users to search and discover research entities (publications, data, software) by exploiting their context of creation and reuse. Context includes aspects such as disciplines, regions, institutions, funders, projects, researchers, RAiDs, and EOSC services. The RDGraph will be made accessible via UI/UX tools, regular data dumps and APIs to support third-party service interoperability via EOSC interoperability frameworks and data re-use to service.
The RDGraph component will:
Ensure that the RDGraph is regularly updated with scholarly content from various providers by developing appropriate provision workflows
Provide regular data dumps of the RDGraph
Provide APIs to support data re-use and third-party service interoperability
Empower users to search and perform queries using Natural Language
Facilitate the discovery of products and services by exploiting impact-based indicators for ranking search results
Enable filtering of search results based on impact-based indicators
Enable community members to get personalised recommendations for research products
Suggest unregistered RAiDs aiming to facilitate EOSC users to manage and track related activities
Enable the connection with the EOSC RAiD service/registry
Support the discovery of research products and services in the RDGraph through the Discovery Portal
Facilitate the management of community profiles
Enable the creation and validation of RAiDs
RDGraph will improve the user experience of researchers and other stakeholders in EOSC to discover scientific knowledge by providing a flexible and federated search service that extends EOSC Research Catalogue. As a result, it is expected to contribute to the acceleration of scientific knowledge production processes.