Towards Materials and Manufacturing Commons - the enablers Digital Marketplaces, FAIR Principles and Ontologies
The OntoCommons, a European Union-funded project, is organising a focused workshop from 4-6 April 2023, taking place on-site at the Fraunhofer Forum Berlin (Germany). This focused workshop provides a platform for academic researchers and industrial practitioners to meet and discuss the Materials and Manufacturing Commons' key enablers, in particular, Digital Marketplaces, FAIR Principles and Ontologies.
In this workshop, the Digital Marketplaces concept and its current status of implementation will be shown to continue the discussion about requirements and challenges using ontologies. Tools supporting data documentation and interoperability will be showcased, and concrete challenges, success stories, as well as experiences using ontologies will be shared.
A session and panel discussion on the future developments of Materials and Manufacturing Commons with a focus on materials and manufacturing data spaces followed by interactive input collection from participants will round up the first part of the workshop and lead to the networking session in the evening.
In the second part, the FAIR principles will be introduced, and existing tools and guidelines to leverage the FAIR principles in an industrial context will be identified and discussed with experts and participants.
FAIRCORE4EOSC at the event
Tommi Suominnen, FAIRCORE4EOSC project coordinator, participates in the discussion on "FAIR Resources for Industry: what is happening in EOSC?" on 24 April at 14:05 CEST.
The third day of the workshop will be dedicated to participants' input, feedback and questions, including an open pitch session for participants. Demos of the tools provided by the ontology commons ecosystem, a virtual tour of digital marketplaces and hands-on working sessions for enhancing the FAIRness score of participants' own ontologies will provide a tangible take-away result from the workshop. To deepen and consolidate the communication and networking between OntoCommons, the digital marketplaces, FAIR initiatives and interested users of semantic tools.
This workshop has received high attention from the European Commission (EC) and is very relevant to supporting the collection of feedback required for further EC incentives/initiatives related to the implementation of Materials and Manufacturing Commons. All participants are strongly invited to contribute to the discussions about the Materials and Manufacturing Commons concept and vision.
Registrations close on Friday, 24th March, at noon for in-person participation.
To learn more and register for this event, visit the official event page.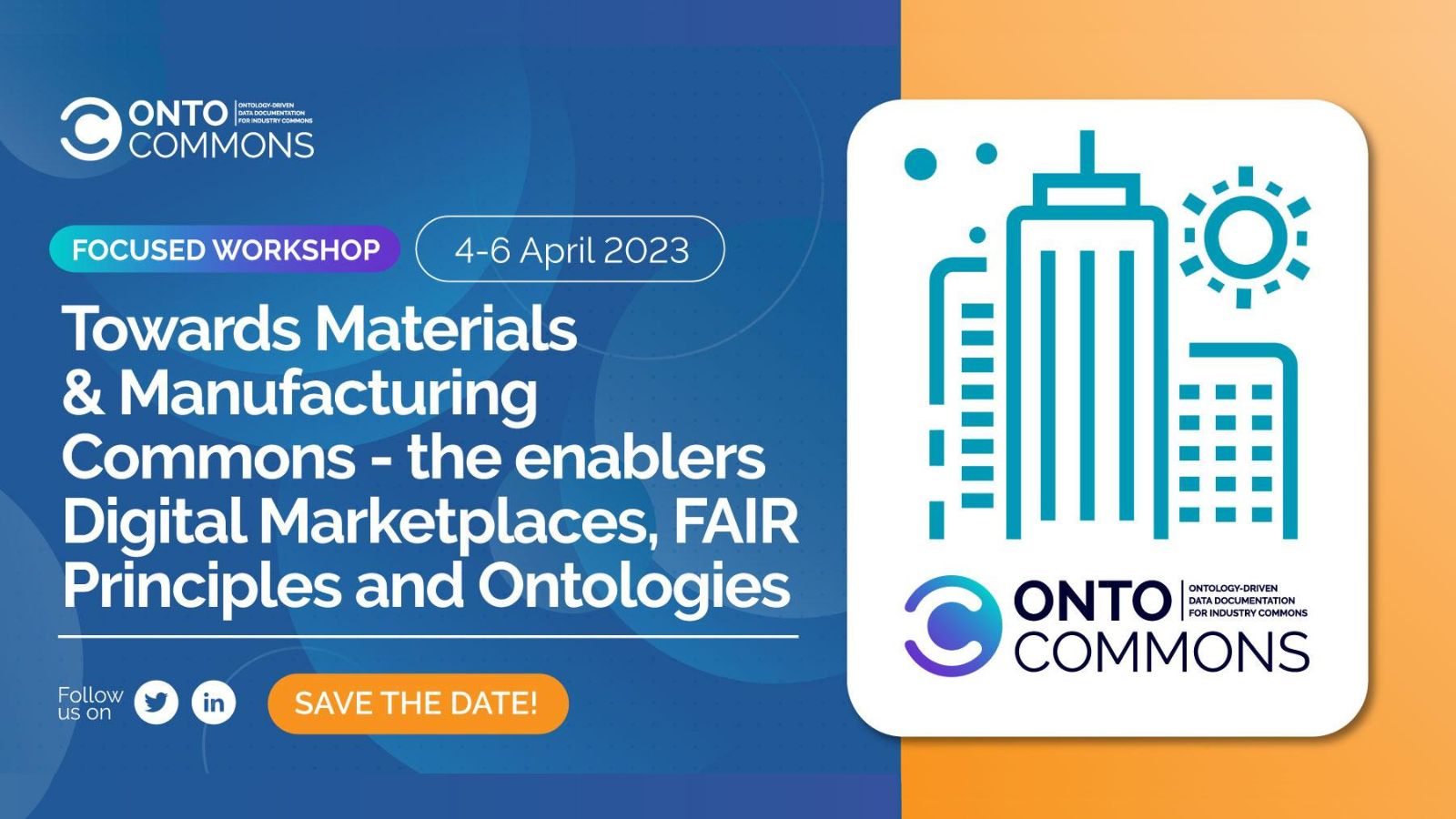 Other event
Berlin, Germany and Online